This shop has been compensated by CollectiveBias, Inc. on behalf of its advertiser, ZonePerfect. #MyLittleWins #CollectiveBias
Getting in shape involves both exercising and eating healthy. As I mentioned earlier, finding the time to exercise and eat healthy snacks is something that I always struggle with. Another way I celebrate my Little Wins? throughout the day is by finding a healthy snack option like a ZonePerfect? bar to eat either before or after a workout. I have been eating ZonePerfect? bars since I was in college and love the way that they taste! (My all-time favorite flavor is the Chocolate Caramel Cluster). I picked up these ZonePerfect? Dark Chocolate Almond, 5ct bars at my local Walmart Store (you can find them in the Performance Nutrition aisle near the Pharmacy!)
Life sure is busy these days and finding the time to get into the gym and even eat healthy can be quite the challenge. I remember before I had a child, I could work out when I wanted to and spend as much time at the gym as I wanted to without ever having to really watch the clock. Now that I work from home and take care of Bennett all day, ?I can barely find the time to get myself into the gym and when I do, I'm usually pressed for time and have to back home shortly after arriving there. ?Since having him, I have learned to maximize the free time that I do have, and that means fitting in workouts whenever I can and finding quick and healthy snack options that will fuel both my workouts and my entire day. There are definitely days that I never get a free moment to exercise (TRUST ME, this is more often than not these days), but today I wanted to share a few ways that I achieve my own personal "Little Wins" throughout the day when I'm short on time. Below I am sharing my favorite full body workouts that you can do in about 15 minutes that will leave you feeling like you worked out for 30, or possibly even longer (depending on your current fitness level). I will typically do these workouts during Bennett's nap time. We live in a pretty quiet cul de sac, so I can step right out my door, complete my workout and not have to worry about cars driving by and having an audience.
High Intensity Interval Training (HIIT) Workout
A few years ago, I read an article that included a 7 minute circuit workout.? The workout was designed to target the entire body and can be done almost anywhere without the use of exercise equipment. This workout is great for beginners and is somewhat low impact. I also always do some kind of warm-up for five minutes before I do either of these workouts (so be sure to add the five minutes to the total workout time!)
The Scientific 7-Minute Workout:
Do the following 12 exercises (in order) for as hard as you can for 30 seconds each and then rest for 10 seconds and repeat the circuit for a second round.
Jumping Jacks
Wall Sit
Push-Up
Ab Crunch
Step onto Chair
Air Squat
Triceps Dip on Chair
Plank Hold
High Knees in Place
Lunge
Push-Up and Rotation
Side Plank
Total Time: 14 minutes
This is one of my favorite workouts to do when I am really pressed for time. I try to do each exercise as quickly as possible in a safe manner, and its not boring because you are constantly changing movements.
Once you feel like you have mastered this workout, you can give this one a try for more of a challenge:
10 Rounds of:
5 Burpees
5 Tuck jumps
5 mountain climbers
5?jumping lunges
Try to do as many of the exercises as you can in 1 minute, then rest for 20 seconds and repeat for 10 rounds. Again, this workout can be done anywhere without the use of any equipment and will have you sweating in no time.
Total Time: About 13 minutes
Now through September 21st , you can earn $1.00 with the purchase of ZonePerfect? Nutrition Bars at Walmart when you sign up with Ibotta!
Interested in finding these ZonePerfect? bars for your next adventure? Hover over the photo to click through to Walmart.com to buy them!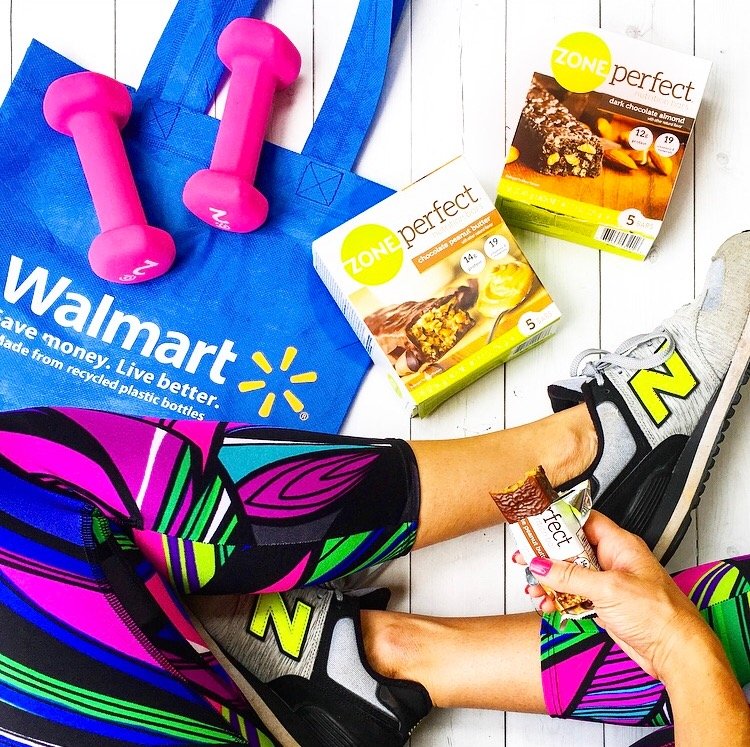 As always, thank you for taking the time to read my blog post and thanks for stopping by!