This shop has been compensated by Collective Bias, Inc. and its advertiser. All opinions are mine alone. #GetJohnsonsBaby #ChooseGentle #CollectiveBias
It's been three years since I've had a newborn in the house and I have to admit that I have forgotten some of the ways that you care for a newborn in the first several weeks and early months of their life. I forgot how much they sleep in the beginning and even how to bathe such a tiny little body! I wanted to provide both seasoned moms and new moms with a little refresher that offers some tips on how to bathe a newborn baby.
Please note: these tips are for after the baby's umbilical cord falls off.
Tips For Bathing a Newborn
Clean the baby's genitals on the changing table with a baby wipe before you give them a bath. The baby's genitals are still very sensitive, so avoid using soap on them during the actual bath.
Use a free standing tub. I find that using a free standing tub or a tub that fits in the sink is easier to use when babies are still super tiny. It allows you to have more control over them when you are washing them in the beginning, but we eventually move to the bigger tub once the baby is 2-3 months old.
Keep the baby warm. There are several ways to keep baby warm while in the tub or the sink that will help ensure they have a good experience. Obviously by placing them in warm water first, then place a warm, wet washcloth over their bodies. I also keep a bowl of warm water next to the sink so that I can pour it over the baby to rinse her off and also keep that washcloth warm through the bath. Another thing that you can do to ensure that the baby stays warm is to wash their head last. Finally, I also like to keep their towel close by in an empty bouncy seat on the floor so I can quickly transport them from the sink to the towel when we are finished.
Use a scalp brush on their head to prevent cradle cap. I use a soft bristle brush on their head almost every night and have never had to deal with cradle cap. You don't have to always use shampoo or soap, but give that head a gentle scrub to exfoliate any peeling skin.
?Make bathing a part of your baby's nightly ritual. ?Its not that babies need to be cleaned every single day, but babies like routine. You want your baby to associate certain things with bedtime and a nice relaxing bath is the perfect way to do this. Recently someone asked me if I gave my baby a lavender bath at night to calm them down and that they swore by this when their child was a baby. I had completely forgotten about how calming the lavender scent can be and remembered how much I liked JOHNSON?S? Bedtime Wash. I love how the JOHNSON?S? brand has been around for such a long time and I even remember when my own mom used to use all the JOHNSON?S? products on me when I was a baby (I can still smell the lotion when I think about it!) I always find the best deals on baby products when I go to Target, so naturally this is where I headed ?to buy some JOHNSON?S? Bedtime Wash, JOHNSON?S? Bedtime Lotion and JOHNSON?S? Calming Shampoo to give my baby the ultimate relaxing bath experience. I also love shopping at Target because they have everything! Its been hard with a newborn to actually get out of the house and do some shopping, so I like that its a one-stop shop! I can buy household items, groceries and even purchase clothing all in one place. Shopping at Target always allows me to maximize my shopping trip time and I can can even get Starbucks at my local Target while I shop! ?When I got to Target, I found out that Johnson's recently reformulated their products (and also changed up their product look!) Johnson's reformulated their products to be more gentle; the products contain no parabens, no phthalates, and are also hypoallergenic. The new products also have easy-to-use pumps, which come in handy when you're trying to hold onto a tiny baby with one hand! The new, reformulated JOHNSON?S? products are more naturally derived, so I feel good using them on my baby's delicate, newborn skin. Target is also running a special on select baby care items (including all three of these) that when you buy three, you get a $5 gift card! The promotion expires on?9/29/2018 at 11:59pm PT ?and the deal is instantly redeemable both in-store and on Target.com
Our nightly bath time routine is a great opportunity to bond with our baby. The whole routine helps relax her before her next feeding and gently eases her into a peaceful slumber for the night.?JOHNSON?S? never stops raising the bar when it comes to what?s best?for baby ? their unwavering commitment to safety and innovation is the foundation for everything that they do, and that's why they are a brand that we can always trust.
Interested in trying JOHNSON?S? Bedtime Bath products? Hover over the photo to click through to Target to shop these products: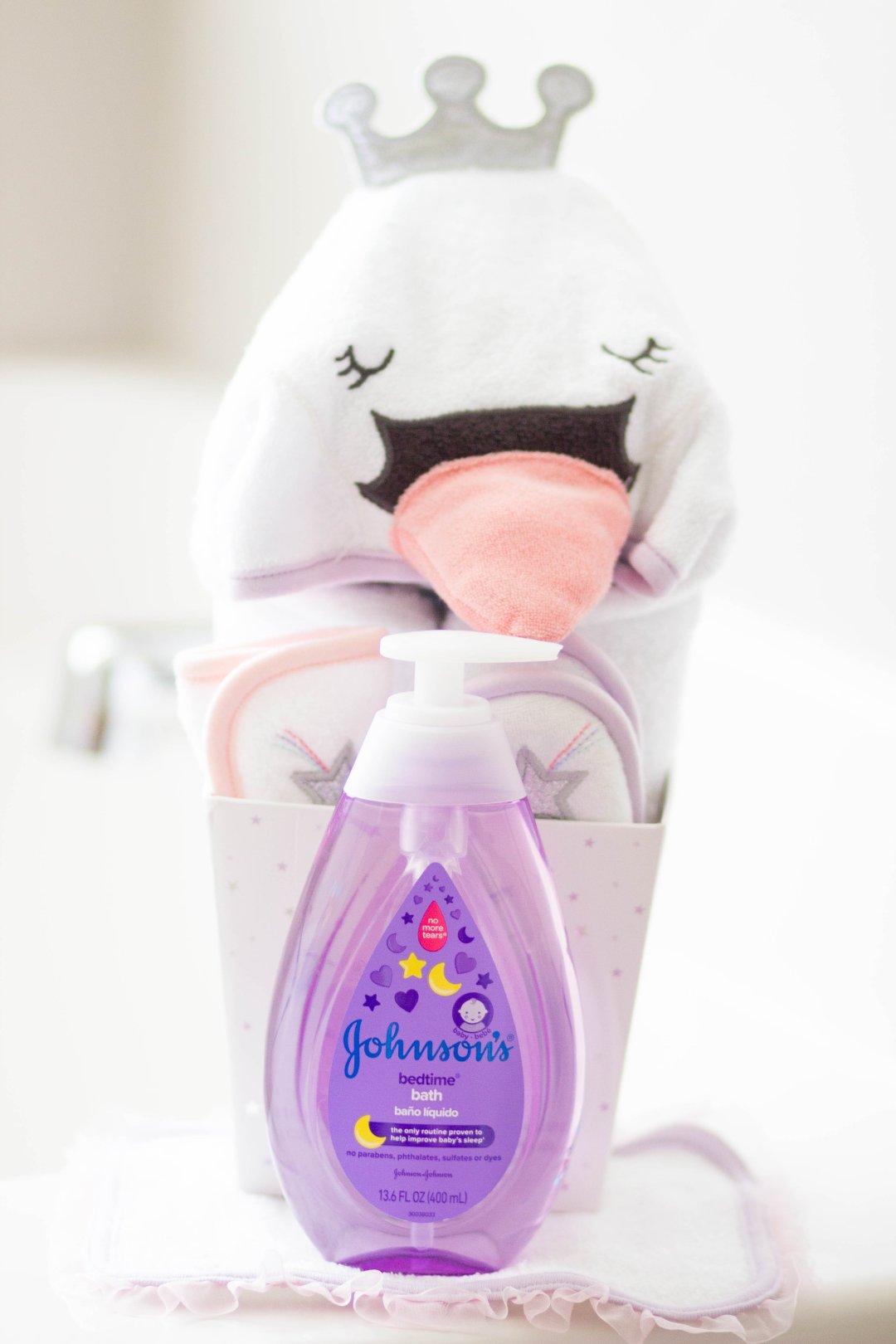 The new reformulated?JOHNSON?S? product line can be found in the baby section at Target. This aisle was M30 at my local Target.